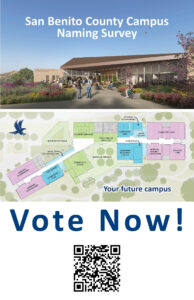 San Benito County Campus Naming Survey
The District is conducting a quick survey to decide the best name for the new San Benito project in Hollister, CA. Your input will inform the decision-making process and have an impact on the future of the campus. Please vote by December 27, 2023.
This survey is anonymous. Responses will be analyzed and reported in a manner that protects the identity of respondents. The survey should take less than 5 minutes to complete.
We appreciate you taking the time to help the District with this important decision, and, of course, your participation is voluntary. This survey is essential to this process — your feedback matters!
Click here to take the survey or scan the QR Code above
Campus Engagement Roofing Color Selection Information Video
If you would like to learn more about our current campus engagement for selecting the color of the roofs on campus, please watch this video.
Roof Color Survey
Which color do you like best for the new roofs on campus?

Scan the code or click here to vote! Voting ends November 30, 2023.